The Dry Cleaners that enjoy a challenge.
We have the latest cleaning equipment and techniques at Alray's Dry Cleaning and Laundry. Every item goes through a rigid inspection process as it is checked in. This includes checking the pockets for forgotten items: inspecting the buttons to make sure they are not loose, damaged or missing; scrutinizing the material for stains that need to be removed. Then when your items are ready, they are once again checked to make sure any found items are attached, stains have been removed, buttons have been fixed and we make notes of anything else we find before it hung up on the finish line.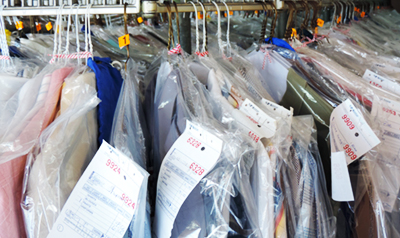 Sorting, treating, washing, drying, folding clothes can take  a lot of your time. That's why for clothes, we offer Same Day Laundry Service*. Drop your soiled clothes off by 9am and they will be ready at 5pm. Our large, state-of-the-art washers gently and thoroughly clean your belongings. The Alray's Laundry team cleans your household Items such as:              • comforters • bedspreads           • blankets • curtains                     • bed sheets • tablecloths           • and more!
Your garments are important to you which is why our dry cleaning facilities are right here on the premises. We don't send them out to another service which allows us to carefully dry clean each item so we can return them to you as good as new. with Same Day Service*. Our Alray's Dry Cleaning team ensures that your garments are cleaned using the manufacturer's exact specifications by checking every label. After cleaning, each garment is expertly pressed, inspected and wrapped to keep it fresh and ready to wear.
The best sneaker cleaners in the City
We clean your sneakers so they almost glow. New shoes costs so much and footwear can pick up dirt so quickly and look worn. Our cleaning process revitalizes them. Drop them off in the morning and your almost new shoes will be ready the same day.
Wear pants that      
fit you
When you buy pants from most clothing stores or online, the sizes are generic and vary. You want to look good and pants that fit properly are important. Alray's clothing alterations and repairs handles most alterations such as hemming pants or taking in the waist. If you have a broken zipper or are missing buttons on a shirt — we take care of that too.